This browser does not support Web Audio API.
A mineshaft of music. Descend into the darkness and create your own music, using sounds found deep in the ground of the North East's mines.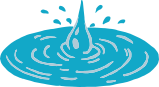 Somebody wants to share their music with you! Click the play button and listen to a track made on Above Beyond Below using the sounds and samples that were found deep in the coal mines. ...and then have a tinker to make your own mining beats!

Above Below Beyond is artist Jamie Holman's response to a 10 month project working young people across East Durham. From the Paleolithic drawings found deep in the Chauvet Caves to Padlocks left on Pont De Artes bridge, people have always wanted to leave their mark, to say clearly "I was here."
Above Below Beyond asks the question,
"how do young people in East Durham want to be remembered?"
Above
Above represents Durham's social & geographical landscape across East Durham and the story of a future that never was. A town plan designed by Berthold Lubetkin, architect to London's Art Deco Penguin Pools. The design saw a future city, that was never realised as extensive mining across the area left the ground unstable for deep excavations. Below
Below tells the story of East Durham's collieries and it's deeply rooted history of coal mining. At one time almost every house would have at least one miner living in it, until the 1980s saw government pit closures and strikes affect families across the area leaving behind mass unemployment, broken relations and industries.

This has been memorialised in a 3 storey painting of a miners' banner.
Beyond
Beyond - is the young people in East Durham, their aspirations and passions. Through music, art and performance their lives have been recorded for future generations looking back, in a series of Trade Union Banners, spoken word and recorded songs.
This website leaves behind a creative legacy, allowing people to descend the 'mineshaft' and make music with the lost sounds of the miners and the new sounds of electronic music. Our new cultures emerge from the memories of our heritage and all those who were here before us.
Small Print
A project delivered by Jamie Holman Studios with contributors; Alan Outram, Ash Murphy, Chris Mason, Cosmo Sarson, Emma Shankland, Lighten, Daniel Nelson and produced by Uncultured Creatives. Produced and curated by Alex Zawadzki. Jamie Holman 2020 Commissioned by East Durham Creates and funded by Arts Council England. You can hear the songs made by the Youth Panel here and see the art work at The Volunteer Arms, Seaham.